My Christian Testimony
D. A. Sharpe
<![if !vml]>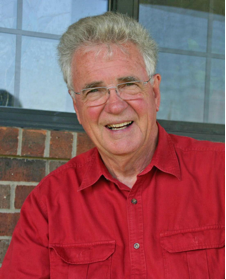 <![endif]>
My great privilege was to be born into a family whose members already knew God, and who were followers of Jesus Christ. That gave me a running start toward growing into what God wanted in my life.
With my father being a Presbyterian pastor for over 40 years, I never was left without knowledge of and hearing about Jesus Christ and the Providence that God had in our lives. My mother was a Godly woman who modeled the Proverbs 31 women to me in her daily living.
I cannot remember not knowing that we were supposed to believe that God created the universe, all things in and on the earth, and all human kind. We were given what was called free will, which I understood meant we could decide to obey principles of God or not. However, we would be blessed or penalized, depending on our choices. We were to believe that Jesus was a man born of woman, yet supernaturally from God, and that Jesus was God incarnate. Never did I doubt in my mind that eternal privilege (going to heaven) was based on whether I believed that Jesus was Deity.
Now, I am the first to confess that my natural sinful nature had its times at pulling me down, and there was my share of backsliding. My life did not honor God as consistently as my upbringing in a Godly family strove to produce. However, I do not recall that my lips ever let pass any words that questioned the existence of God, or that Jesus Christ was His Son, sent to save me, and all humankind who would receive Him. Even in my university days, when I was around the first strong currents of non-Christian influence, I never abandoned that belief. I just gave in to retreat and had little to do with those advocating non-belief, and I did not darken the doors of many churches in my five years at higher education.
I remember joining our church, Trinity Presbyterian Church in Houston, Texas, by making a commitment to Jesus Christ at about 10:00 AM on Palm Sunday, March 18, 1951, at the age of 11. My father propounded the questions that required me to profess belief in the Lordship and Deity of Jesus Christ. It was real to me, to the extent that could understand at that tender age. I still celebrate March 18 each year as a birthday in my life!
Though I did not understand enough about what I was doing when Suzanne and I were married, I now know that our paths crossing and uniting into marriage was foreordained, and is the best human thing that has happened to me. Her musical talents, her Christian commitment and participation in the Chancel Choir at Canal Street Presbyterian Church in New Orleans, Louisiana, the city in which we met, led us into active participation. Our marriage was in that church, conducted September 30, 1962, a mere 105 days after our meeting, by my Presbyterian father, coming over from Texas, and the Pastor of CSPC, the Rev. Dr. Robert A. Pitman, a Godly minister whose friendship even today we cherish and continue, as he now is in his eighties, travels the world for Christian missions and resides in California. In fact, he was a seminary student with my brother-in-law, the Rev. Dr. Andrew A. Jumper.
We even recently (in 2017) had occasion for a reunion with Dr. Pitman, with his conducting a seminar, even at his current age of 88! What a joy to maintain Christian fellowship with a man over 54 plus years!
We lived in New Orleans 1962-1972, and all three of our Presbyterian children (Taylor, Tiffany & Todd) were born in a Jewish hospital (Touro Infirmary), delivered by our dear friend, Dr. Sustendahl, a Roman Catholic doctor. Two of those children married and had families: Tiffany married Steve Westmoreland and their five children are Katherine, Jack, twins Lily & Sarah, and Sam. Todd married Carrie Maxwell, and their children are Luke and Brooke.
During a week of spiritual renewal at our church, Canal Street Presbyterian Church in New Orleans, LA, a contingent of lay Christians came from across the South to share their testimonies. One couple was from Lubbock, Texas, Jack and Shelly Hall. a Methodist Church couple, who'd come to know my Presbyterian Pastor brother-in-law, the Rev. Dr. Andrew A. Jumper. It was in a meeting in our home after one of the services that we were with them and my brother-in-law, who was their friend, that they taught us more about the Holy Spirit, and they prayed for our filling, with speaking in tongues. That was in October 1965. The Halls were in the family that owned and operated in Lubbock, Texas the Furr Food Stores and the Furr Cafeterias.
Much of our spiritual growth took place as Suzanne and I became the adult volunteer ministers for the church's ministry to high school age students. Though we felt our recruitment was because someone thought we were spiritually wise, in retrospect, we have seen how we just were ripe for beginning to learn what marvelous things God had in our lives, as experienced through what we did and through the kids in the group.
We managed to keep up over the years with one of the high school young ladies, Mary Alice Arseneaux. We rediscovered her and became friends with her sometime around 2010 or after on Facebook. She, of course, was married, with children! Her Facebook address uses her nick name and her married surname: Pinky Idiaquez.
In March 2017, we were contacted by another of the young guys in that ministry, Mr. Douglas Boylan! He found my website on the Internet, and sent an e-mail. He had married his girl-friend in our youth group, Sandi Waddell in 1969. They now live in Birmingham, Alabama, they'd had five children and today, have 12 grandchildren! He said that she and he recently had recalled their good experiences when we all were together in New Orleans, and resolved to try to find us. What a blessing when we can see such spiritual friends come together like this!
My career employment had been with International Business Machines, in the computer industry following graduation from college in 1962, but in 1969, I chose to leave that labor. In 1970, my professional life in administration and non-profit organization began at Trinity Christian Community in New Orleans, a ministry originated out of Canal Street Presbyterian Church and through the vision of the Rev. Mr. William Brown. This beginning was in 1967. As I write this testimony today in 2017, TCC is celebrating its 50th year in ministry! Bill has graduated to heaven, but his eldest son, Kevin Brown, is directing the ministry and is on the faculty of Louisiana State University – New Orleans.
It was a ministry to the down-and-out on the streets of what was known as the Irish Channel. We bought a 101-year old home down there with another couple, making it into a duplex in 1967. They were Dr. & Mrs. Joseph (Joe & Charlotte) Snead. They lived most of their later lives in West Virginia. The people with whom we worked were mostly African American teenagers & families, and Anglo adult people often associated with the ways of crime and interfaced regularly with the criminal justice system. There were five bars that never closed (24 hours/day) within a block of our house, and during the five years we resided there, we witnessed five instances of handgun fire. The spiritual growth of our family took off, as the challenges of a crime-torn inner city in New Orleans where we lived tested us in many ways.
We continued to learn more of what God had for us and continue even today learning about what He has for us. We have grown over the years, moving from New Orleans to Saint Louis 1972-82, being members of the Central Presbyterian Church there. My work was as Executive Director of the Covenant Fellowship of Presbyterians. That was a group of pastors and lawmen (mostly Presbyterian Elders) who advocated preservations of evangelical Christian theology and understandings of the Bible, versus the modernist drifts being seen in that denomination in those days.
Then, we were called to Dallas. These years were working administratively for Christian organizations, the last 22 years being a large church (about 7,200 members) in Dallas, Highland Park Presbyterian as Executive Administrator to the Senior Pastor. The Senior Pastor who recruited me was in many ways my spiritual mentor, the Rev. Dr. B. Clayton Bell, who was a brother-in-law of Evangelist Dr. Billy Graham. That was a unique population of church members, as the Park Cities was the focus of most of the significant wealth in the Dallas area. When Forbes Magazine began publishing its estimate list of the 400 wealthiest individuals in America, beginning in 1983, that maiden voyage issue included an article on our church and our Senior Pastor. The reason seemed to be that six of the top 15 most wealthy individuals in America were members of Highland Park Presbyterian Church! Though many may assume such a church population could be subject to a lot of materialism, let me assure you that my witness was to many, many friends there who had deep Christian commitments, understandings and practices.
My retirement has been from employment, but not from work! It seems I work full time. We live in Aurora, Wise County, Texas and are members of Eagle Mountain International Church, where Love is King and we continue to grow spiritually. We talk of our church as the Revival Capital of the World! It's the "Mother Church" of the Kenneth Copeland Ministries, a large world-wide ministry.
Suzanne and I cherish our mornings together when we read and pray for direction in each day. In 1986, we began reading through the entire Bible every year, and continue to do so today. In 2017, we are on our 32nd time to read out loud to each other the entire Bible! We keep learning new things as God blesses us with renewed revelation. We encourage all Christians to be disciplined in regular, daily use of God's Word, the Bible.
Our understandings of Biblical stewardship, steeped in years of experience, is that our blessings exist through Biblical obedience to the concept of a tithe of our income going to the Body of Christ, the local church, where God has placed us. Certainly, our spiritual attentions are turned to about a dozen vibrant Christian ministries and missionary activities. The financial support going to them is over and above the title to our local church. The blessings from this pattern of financial understanding has enabled us to give, on the average in the past couple of decades around 20%, and even in one recent year, as much as 30% of our gross income. It is a blessing of true Godly proportions.
We feel these accomplishments are reached by our following of Scriptures, such as Romans 13:8, "Owe no man anything, but to love one another…" We've incurred debt earlier in our life, but since getting rid of debt, we've prospered. We have had no debt in this century! Our last debt retirement was in the late 1990's. That allows you to do amazing things at God's prompting.
We count it a joy and a privilege to serve God, and to bring honor and glory to His name by the Christian lives we lead.